GESHARY COFFEE HIBIYA
Hibiya shop is designed under the concept of "Paradise of Coffee," and each floor represents how the coffee is made from farm to cup.
We have carefully selected Geisha worldwide, and our patissier makes sweets and foods every day at the shop, which brings out the delicious taste of the Geisha.
1F / Entrance

Forests, mists, and sunlights weave the loose time, which flows in Costa Rica and Panama's highlands.

2F / Forest

The deep green forest, which nurtures Geisha, can feel the breath of nature from the sunlight filtering through the leaves and branches.

3F / Garden

The motif is "African bed and Patio," which plays an essential role in drying during the refining process.

4F / Factory

It represents the Roastery Lab, which brings out the unique character of Geisha's floral aroma.
Menu
– COFFEE –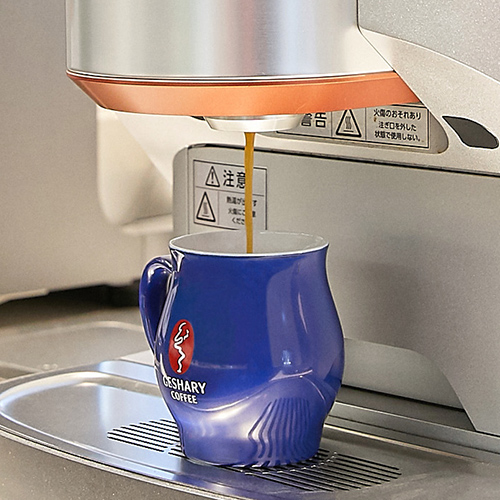 FURUMAI Coffee ※1
– Own farm HACIENDA COPEY Black Honey

HOT M ¥800 / ICED M ¥ 850

– JANSON Washed Alpes Lot111

HOT M ¥800 / ICED M ¥850

– Mario Marin Special

HOT M ¥800

– JANSON Special Cafetalera Lot131

HOT M ¥1,300 / ICED M ¥1,400

– Ninety Plus Special BNP1997

HOT M ¥1,300

– GESHA VILLAGE Natural

HOT M ¥1,300 / ICED M ¥1,400

– ESMERALDA Washed BOP GW-06

HOT M ¥2,500
Geisha Latte

HOT M ¥900 / ICED M ¥900

Chocolat Chaud

HOT M ¥800
– SWEETS –
GESHARY Apple pie (while)

¥1,980

Mont Blanc ~Japanese Chestnuts & Green Tea~

¥280

Sweet Potato ~Silk Sweet & Caramel~

¥280

Raspberry Mousse ~Raspberry & Strawberry~

¥280

Muscat Mousse ~Muscat & Peach yogurt~

¥280
– FOODS –
Focaccia Sandwich with Avocado and Tofu-Mozzarella(For Vegan)

¥380

Baked Brioche with Soymilk Bechamel Sauce and Cuddled Egg

¥380

Focaccia Sandwich with Carottes Râpées and Mortadella Sausage

¥380
– OTHERS –
Cold brew Bag※1 ※2

¥1,380~

Roasted Bean ※1 ※2 ※4

¥2,200~
※1 The price varies depending on the Lot of beans.
※2 For takeaway only
※3 For dine in only
※4 Available on Online shop
※All listed prices are pre-taxed price. Consumption tax will be charged 10% for dine in, 8% for takeaway.
Access
GESHARY COFFEE HIBIYA
〒100-0006
Yurakucho Toho Building, 1-6-3, Yurakucho, Chiyoda-ku, Tokyo 100-0006, Japan
Open hour: All days 10:00-20:00
No scheduled holiday
Tel. 03-3517-4153
0-minute walk from A4 Exit of Hibiya Station (H07 & I08)
0-minute walk from A4 Exit of Yurakucho station (Y18)
2-minute walk from C1 Exit of Ginza Station (G09 & M16)
3-minute walk from Hibiya Exit of Yurakucho Station (JY30)
3-minute walk from A11 Exit of Hibiya Station (C09)