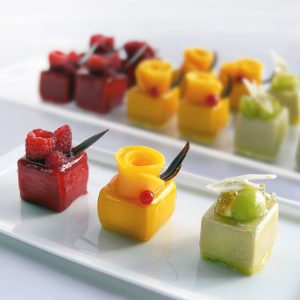 We will start serving new sweets "Petit fours" 3 types beginning from Saturday, August 8th.
These items are focused on pairing with Geisha. Using a limited amount of oil, and emphasized on the taste of the fruit, to avoid interfering with the flavor of Geisha.
【Raspberry Mousse ~Raspberry & Strawberry~】
【Mango Mousse ~Passion fruit & Mango caramel~】
【Muscat Mousse ~Muscat & Peach yogurt~】
We made petit and cute sweets.
Please enjoy pairing with our Geisha.