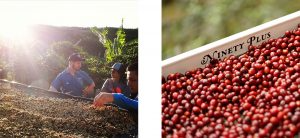 Mario Marin Special Vara Blanca Micro-mill and Ninety Plus Special BNP1997 are available from today.
Mario Marin is located in the Tarrazú region, which represents Costa Rica's specialty coffee production area, they are fully utilizing their original micro-mill to create innovative processing methods.
You can enjoy the complex taste of geisha created by the combination of the terroir and processing method.
Ninety Plus is located in Volcán district, one of the best terroir producing areas in Panama. Opened in 2009, the farm mimics the Ethiopian wild coffee cultivation environment, pays homage to nature, and strives to reforest and protect the ecosystem.
Both of them are anaerobic processed coffee. Please enjoy the new fascination of Geisha.